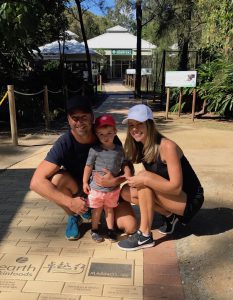 Marino Law is proud to become a sponsor of the Currumbin Wildlife Hospital Foundation with the purchase of an engraved paver, which was permanently installed last week.
Managing Partner Rob Marino, pictured with his wife Brittany and son Maxx, were excited to visit the hospital and learn more about how the Foundation continues its work towards treating, rehabilitating and releasing sick, injured and orphaned Australian wildlife.
"At Marino Law we believe in supporting our local community and saw the opportunity to purchase a paver at the Currumbin Wildlife Hospital as a great investment into an established Gold Coast icon and a worthwhile cause," Mr Marino said.
"Currumbin Wildlife Hospital plays an integral role in the conservation, rehabilitation and education around Australia's native wildlife, ensuring their future survival and with no ongoing State or Federal funding, we are pleased that we could contribute."
The donation by Marino Law will help towards treating the 8,000 sick, injured or orphaned wildlife cases admitted every year to the hospital.
Operating for the past 28 years, the Currumbin Wildlife Hospital Foundation aims to raise $1 million annually to continue its mission of saving Australia's wildlife and to find cures for devastating diseases.