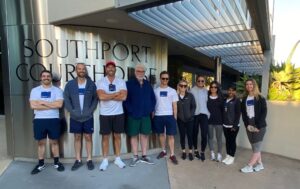 Each year, the Queensland Legal Walk, facilitated by LawRight, takes place to increase vulnerable Queenslander's access to the legal system. With a strong belief that everyone should have access to justice, today, the Marino Law team woke early to proudly participate in this year's walk.
2021 marks and celebrates 20 years of LawRight doing great pro bono in and with our community and Marino Law is immensely proud to support an organisation that works to improve the lives of vulnerable people.
The team walked from Southport Parklands to the Sundale Bridge and back to acknowledge and celebrate pro bono lawyers. All funds raised from today's walk go towards increasing access to the legal system for vulnerable Queenslanders.