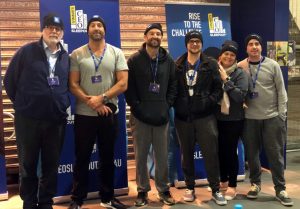 Marino Law's Partners and Senior Associates joined more than 200 of the Gold Coast's most high profile CEO's and business leaders at this year's Vinnies CEO Sleepout® on Thursday night.
The team braved cold temperatures, camping out at Cbus Super Stadium to raise money and awareness for people in Australia experiencing homelessness.
Marino Law Managing Partner, Rob Marino said the firm were the second highest team fundraisers, raising $12,876 towards the appeal, which assists the St Vincent de Paul Society (Vinnies) to provide immediate relief to people in crisis and bring to light the harsh reality faced by those who have no place to call home.
"It was a fantastic effort by the team to raise so many much needed funds," Mr Marino said.
"Homelessness is all around us and can affect people we know and love for so many reasons, so we are pleased to contribute in this way, by placing ourselves in the shoes of the less fortunate, even if only for one night. It makes you grateful for the simple things in life."
Of the more than 105,000 Australians experiencing homelessness every night, 42 per cent are women and 32 per cent are children.
Vinnies provides crisis accommodation to individuals experiencing homelessness, as well as advocacy support, budgeting services, living skills programs, emergency relief, transitional housing and access to programs that help rebuild lives.
This is Marino Law's third year taking part in the fundraiser.
Thank you to those who supported us and helped us to reach our fundraising goal.