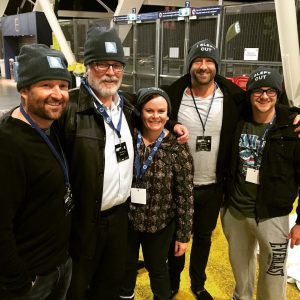 On Thursday 22 June, Marino Law's Partners and Senior Associates joined more than 200 of the Gold Coast's most high profile CEO's and business leaders at the 2017 Vinnies CEO Sleepout®.
The team braved cold temperatures, camping out at Cbus Super Stadium to raise money and awareness for people in Australia experiencing homelessness.
Marino Law Managing Partner, Rob Marino said the firm managed to raise $5,835 towards the appeal, which assists the St Vincent de Paul Society (Vinnies) to provide immediate relief to people in crisis and bring to light the harsh reality faced by those who have no place to call home.
"It was a reality check for the whole team and made us grateful for the simple things in life, like a bed to sleep in and blankets," Mr Marino said.
"Homelessness is all around us and can affect people we know and love for so many reasons, so we are pleased to contribute in this way, by placing ourselves in the shoes of the less fortunate, even if only for one night."
More than 105,000 Australians experience homelessness every night — 27 per cent are children, and 23 per cent are faced with the situation due to domestic and family violence.
St Vincent de Paul Society Queensland CEO, Peter Maher, said the Vinnies CEO Sleepout® is a great opportunity for leaders to come together to make a real difference in the lives of those who are less fortunate.
Vinnies provides crisis accommodation to individuals experiencing homelessness, as well as advocacy support, budgeting services, living skills programs, emergency relief, transitional housing and access to programs that help rebuild lives.
Photo from left to right: Ben Marino, Partner; Mark Steele, Senior Associate; Abbi Golightly, Partner; Rob Marino, Managing Partner; Andrew Taylor, Senior Associate.