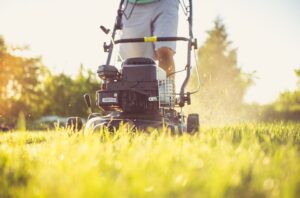 In an Australian first, a Jim's Mowing franchisee, Steve Thompson, has sued the Victorian State government over its controversial lockdown measures last year that prevented the franchisee from generating an income despite him working alone and the entirety of his work being outside.
Mr Thompson sued Department of Health and Human Services in the Victorian Civil and Administrative Tribunal (VCAT) after he lost more than $24,000 during the lockdown last year. His suit has gained the backing of Jim's Mowing founder Jim Penman and could open the floodgates to similar actions if successful.
Mr Thompson said that he "was unfairly put out of work for seven weeks, the financial stress caused [him] to separate from [his] wife of ten years".
"This (compensation case) is for the sole traders who work by themselves outside in the fresh air, there was no contact with the public, that's the key issue here."
Under public health orders issued in early August last year, Jim's Mowing employees and franchisees were required to cease all work after lawn mowing and garden maintenance was included in a list of precluded industries.
Mr Penman commented on the case saying, "The government cannot just shut down a whole industry without reason," he said.
"If someone is put out of work, they deserve justification and we've been asking for that justification, but it's never been forthcoming.
"After Steve's case is heard I will be telling all of my franchisees and sole operators to make a claim for compensation … we're talking about millions of dollars – this is a heavy claim against the government."
"We are determined for these sole traders who were unfairly told not to work to get compensation for their loss of income – it's the right thing to do," he said.
Mr Thompson's case is due to be heard on the 9th of June.