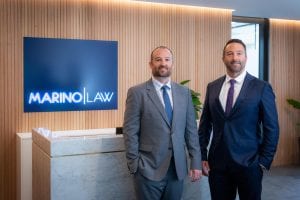 The modern gift for reaching your tenth anniversary is a diamond and after 10 years of successful growth, Marino Law has earnt a few carats.
Brothers and business partners, Rob and Ben Marino have grown the firm from its humble beginnings in Robina to the landmark office it occupies in Mermaid Beach today.
"When we initially purchased the firm in 2009 it was just us and two staff in our little office in Robina," Managing Partner, Rob Marino said.
"Since then we have strategically grown our firm to a team of over 20 staff and four senior associates, which comprises accredited law specialists and a third partner, Abbi Golightly who heads our Family Law division."
The firm, which specialises in most areas of law, has also considerably increased revenue over this period, nearly six-fold since its first year of operation.
"Our unprecedented growth in such economically uncertain times and through the midst of the GFC has arisen due to a few factors, but credit most certainly has to be given to the loyalty of our hardworking team and our team's dedication to offering great service and meeting our client's expectations," Mr Marino said.
Whilst the boutique firm officially relocated to Mermaid Beach in 2011, the rapid expansion it has experienced led them to move next door earlier this year into a brand new 330 sqm space.
"We realised that to continue our growth, we needed to invest in the business with new offices and a significant top end fitout," Mr Marino said.
"The new space is modern and spacious and was designed to provide our staff a comfortable and productive work area, with large offices and modern breakout areas.
"The goal was that this would result in an even better service being delivered to our clients and so far, it is working."
The larger office also allows for future expansion as the firm continues to grow its skill base with the appointment of specialist legal practitioners.
"It's one thing to keep adding staff, but we want to ensure that our lawyers are the best of the best, offering our clients technical advice and service that can't be found elsewhere on the Gold Coast."
The growth and expertise within Marino has been recognised over the past decade, with  accolades including being named on the prestigious Doyle's Guide several years running and this year being a finalist in the Suburban/Regional category of the Australian Law Awards.
Marino Law specialises in family law, litigation and dispute resolution, commercial and business law, property and real estate law, corporate law, personal and corporate insolvency, migration law and estate and succession planning law.
Both Rob and Ben agree that while the past ten years have had their challenges at times, the success and good times have made it all worthwhile.
"It's pretty amazing to sit back and look at what we've created," Mr Marino said.
"We're extremely proud of what Marino Law stands for and we are excited to see where the next decade takes us."