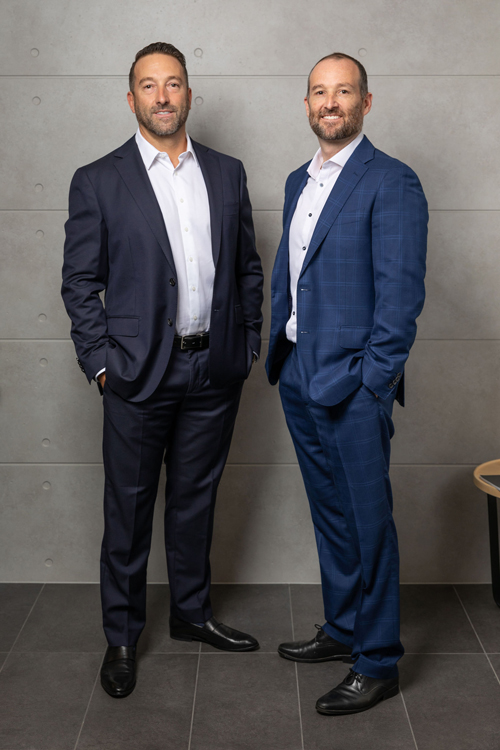 Both Rob and Ben had a keen interest in the law from an early age with their father and now five brothers all at some point, having practised in the legal profession.
Being raised on the Gold Coast, Rob and Ben cut their teeth as junior lawyers locally. After a few years in practice, Ben travelled overseas to London to practise for four years as a property law specialist for a global corporation. Rob also left private practice and moved to management positions in the United Kingdom and for some years into a senior in-house corporate legal role with a Top 100 ASX listed Funds Management and Financial services company.

With both brothers moving back into private practice again for some years, it seemed a natural next step to open their own practice.

Launching the firm with just five staff in a small office in Robina in 2009, the firm relocated to Mermaid Beach in 2011 and with a growing team eventually outgrew this space before opening a new office on the Gold Coast Highway in 2018.

Recognising the value of firm culture and alignment of their core values, which include integrity, accountability, teamwork and excellence, the partners have been very selective with the recruitment of personnel. Aside from legal technical expertise, the partners look for particular qualities in the firm's team members – such as enthusiasm for the law, positivity, empathy and a certain "grounded" quality that builds easy rapport with clients and team members alike.

Today, with advances in technology making work barriers disappear, the Marino Law team deliver services and work with clients across Australia and have had strong recognition from accolades such as being named on the prestigious Doyles list, being a finalist in the best Suburban/Regional category of the Australian Law Awards in 2019 and winning the 2021 Client Choice Award for Best Commercial & Business Firm (<30m).

From humble beginnings the firm has gone a long way. And with an eye to the future, it will be exciting to see what happens next.
Get in Touch
Contact us today on 07 5526 0157 to make an appointment with one of our Gold Coast Lawyers to discuss your legal matters.